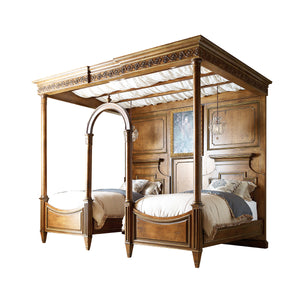 Habersham Mallory and Natalie's Cloister Bed
Regular price $51,979.00 $31,187.00 Sale
This stunning twin bed design was inspired by the Sheraton Room at Biltmore House in Asheville, NC. The Habersham Mallory and Natalie's Cloister Bed is neoclassical in style and features two twin beds sharing a headboard and canopy, creating a large-scale image of grandeur. The shared wood headboard is indicative of early 19th century architectural cloisters, in which covered walks in monasteries, colleges, and cathedrals, had one walled side and one open colonnade. Built for princesses!
The king-sized version of this bed is the Habersham Conventry King Bed.
Specifications:
Product dimensions: 126"W x 88"D x 112"H
Bedding/accessories pictured not included.