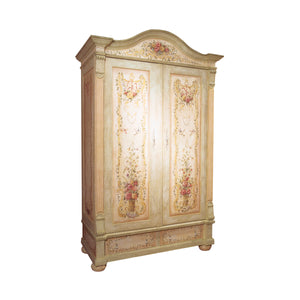 Habersham Lorraine Armoire
Regular price $18,589.00 $11,149.00 Sale
Inspired by the picturesque gardens and bursting vineyards along the Wine Road in Alsace-Lorraine, France, the Habersham Lorraine Armoire was designed with classic lines and beautiful, whimsical, hand-painted art, suggesting that one is enjoying the flora of the gardens from within.
Specifications:
Product dimensions: 52"W x 24"D x 84"H
TV opening: 42"W x 18.5"D x 45.5"H
Interior: 1 partition, 1 long adjustable shelf, 1 permanent shelf, 3 short adjustable shelves, 1 short and 1 full length clothes rod, and 1 magic wire. With the magic wire, you can turn the Habersham Lorraine Armoire into

a media center with storage;
a bookcase; or
extra closet space.

Accessories pictured not included.